The Sprague's pipit or the Anthus spragueii is a small songbird that breeds in North American short- and mixed-grass prairies. It migrates to the southwestern United States and northern Mexico for the winter. Sprague's pipits sing high in the sky, like a goldfinch or skylark. It is easily identified by its distinctive descending song rather than by sight. They are in the Motacillidae family.
Quick Overview: Anthus Spragueii – Sprague's Pipit
Body size: Around 5.9-6.7in (15-17 cm) and weighed 0.6-0.9 g (18.2-27oz)
Main colors: Tan, White, Black, Pink, Cream, Gray
Range: South-Western Rocky Mountains in the United States
Migratory Bird: Yes
Best time of the year to see in the U.S.: January, February, December
Conservation Status: Least Concern
Sprague's Pipit Description
Sprague's pipits are well camouflaged in prairie grasses due to their lack of bright colors. The plumage is tan with white and black streaks, with white outer tail feathers. These pipits have pinkish legs, dark eyes, and a cream-colored beak. During mating season, females gain mass. Young hatch with gray down and transparent skin.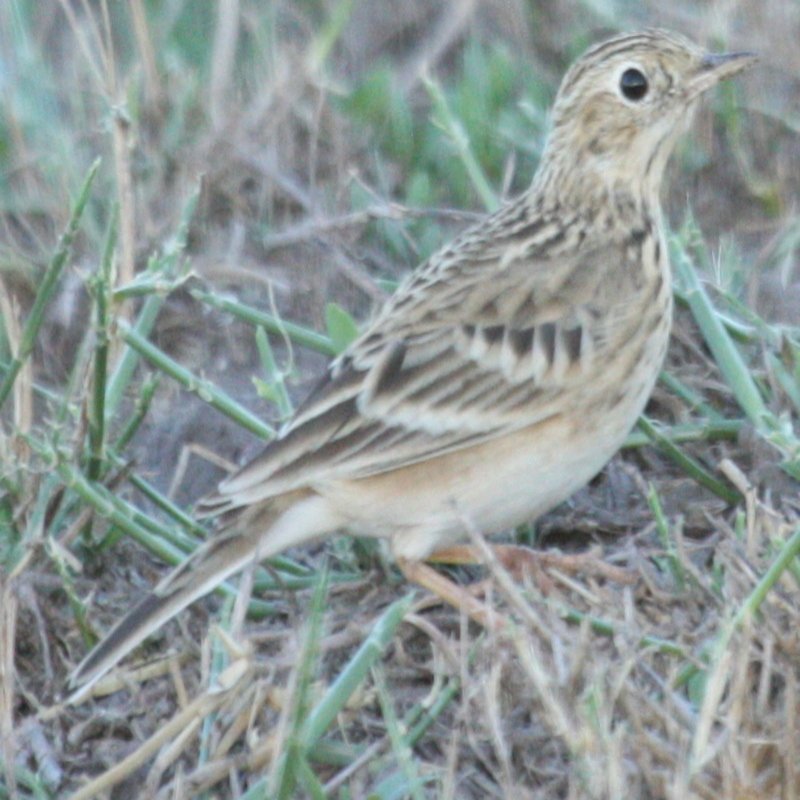 Size
The length of the body ranges from 5.9-6.7in (15-17 cm) and weighed 0.6-0.9 g (18.2-27oz), and the width of the wings ranges from 10 in (25.4 cm).
Feeding
Sprague's pipits eat mostly arthropods and seeds during the breeding season. During the day, they forage alone in grasses. They eat grasshoppers, crickets, weevils, stink bugs, ants, leaf beetles, and caterpillars.
Habitat
Sprague's pipits prefer open grassland with few shrubs. Native grasses like wheatgrass, June grass, blue grama, Canby blue, green needlegrass, smooth brome, and crested wheat are favorites.
Behavior
Sprague's pipits forage or flee predators by running. Male Territory Defense: They fly over the land, singing briefly before flapping their wings. They end the show with a low dive and a high landing.
Anthus Spragueii Scientific Classification
Kingdom: Animalia
Phylum: Arthropoda
Subphylum: Chelicerata
Class: Aves
Order: Passeriformes
Family: Motacillidae
Genus: Anthus
Species: Anthus spragueii
Best time of the year to see
The best time of the year you could these birds in the United States is during winter from December to February.
Distribution of the Sprague's pipit in the USA
Anthus spragueii breeds in the northern Great Plains, near Saskatchewan and the Rocky Mountains. In addition to the Dakotas and western Minnesota, it is found in Montana and British Columbia. Anthus spragueii winters in northern Mexico and Arizona. Other places where it's been seen include Massachusetts and Michigan.
The Sprague's pipit can also be found in the following states in the United States – Arkansas, Louisiana, Mississippi, New Mexico, Ohio, Oklahoma, and Texas.
Anthus Spragueii – Sprague's Pipit