The Anthus cervinus, also known as Red-throated pipit is a small passerine bird in the family of Motacillidae. These birds are known to be migrated in a long-distance moving in winter to Africa, south and east Asia, and the west coast of the United States.  
Quick Overview: Anthus Cervinus – Red-Throated Pipit Body size: Around 6in (15 cm) and weighed 20g (0.7 oz).
Main colors: Brown, White, Orange-Brown
Range: Western Coast of the United States
Migratory Bird: Yes
Best time of the year to see in the U.S.: January, February, December
Conservation Status: Least Concern
Red-throated pipit Description
Brown-streaked upper parts and heavily streaked white underparts distinguish this medium pipit. The color of the face, chin, throat, and upper breast are orange-brown. The color of the crown is pale brown. Two white bars are visible on the brown wings. The tail has a white edge.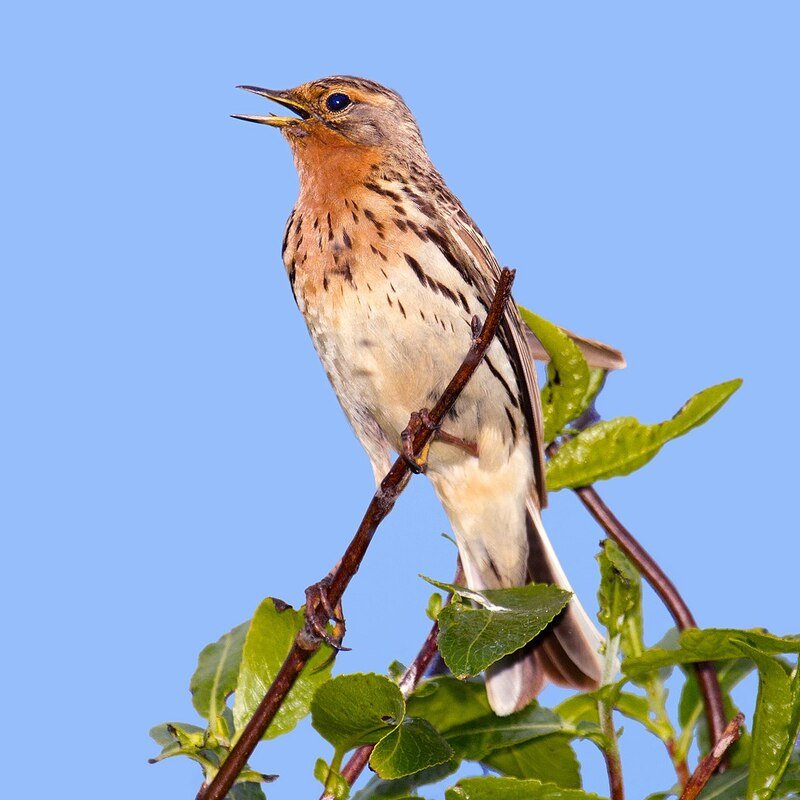 Size
The length of the body ranges from 6 in (15 cm) and weighed 20g (0.7 oz), and the width of the wings ranges from 25 cm (10in).
Feeding
It subsists on insects and seeds. Forages for food in short grass by crawling and walking in a crouching position, frequently darting after insects; wags tail during pauses in foraging activity.
Habitat
They prefer to breed in wet depressions with bushes to perch on when the terrain is hilly and rolling, as is the case with red-throated pipits. When they breed in Scandinavia, they do so on bare mountain tundra, willow-zone swampland, and grassy openings in short, upland birch forest.
Behavior
Red-throated pipits, like other Anthus species, have cryptic habits and plumage. They forage on the ground and perch on bushes, small trees, and rocks. When disturbed, they flush from the ground and fly in erratic, jerky movements. When agitated, they stand and pump their tails.
Anthus Cervinus Scientific Classification
Kingdom: Animalia
Phylum: Arthropoda
Subphylum: Chelicerata
Class: Aves
Order: Passeriformes
Family: Motacillidae
Genus: Anthus
Species: Anthus cervinus
Best time of the year to see
The best time of the year you could these birds in the United States is during winter from December to February.
Distribution of the red-throated pipit in the USA
This species breeds in far northern Europe and Asia, as well as northern Alaska and in winter, in Africa, South and East Asia as well as along the western United States coast.
The red-throated pipit can be found in the following states in the United States – California, Oregon, and Washington.
Anthus Cervinus – Red-Throated Pipit