Known as the northern harrier, Circus Hudsonius is a bird of prey. It breeds throughout the northern hemisphere, including Canada and the United States. They belong to the family of Accipitridae. Some taxonomists regard the northern and hen harriers to be different species, while others consider them conspecific.
Quick Overview: Circus Hudsonius – Northern Harrier
Body size: Around 19-25 in (48-64 cm) and a weight of 1043 g (36.8 oz)
Main colors: Brown, White, Black, Yellow, Gray-white
Range: Throughout the United States
Migratory Bird: Yes
Best time of the year to see in the U.S.: Northern part – All Year (January – December), Southern part – Winter (January, February, December)
Conservation Status: Least Concern
Barred owl Description
A gray-white male with black wingtips and a black-banded tail. Females and juveniles are brown with black tail stripes. Females have buffy undersides with brown stripes, whereas immatures are white. They got yellow feet as well. Northern Harriers have a distinctive white rump patch.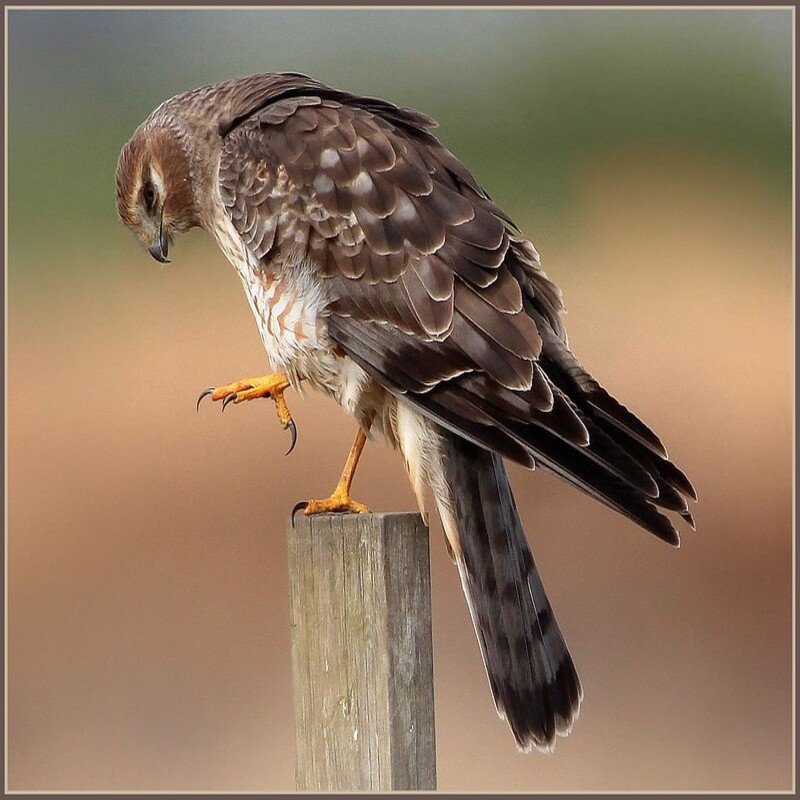 Size
These hawks have a length of 19-25 in (48-64 cm) and a weight of 1043 g (36.8 oz). Their wings could range from 46-58 in (117-147 cm).
Feeding
Their food consists of a variety of rodents, reptiles, insects, frogs, and birds, the majority of which are passerines and tiny waterbirds. In the course of their hunting, they glide near the ground and dive rapidly to catch prey.
Habitat
These birds nest in open areas like the Arctic tundra, prairie grasses, fields, and marshes. Their nests are hidden amid grasslands or wetlands. During migration and winter, harriers usually travel south, away from snow-covered areas, to open habitats similar to their breeding grounds.
Behavior
Northern Harriers hunt by flying low over fields and marshes, listening and watching for tiny creatures. Eating and perching on low poles or trees. Males woo girls by doing extravagant flying barrel rolls.
Circus hudsonius Scientific Classification
Kingdom: Animalia
Phylum: Chordata
Subphylum: Chelicerata
Class: Aves
Order: Accipitriformes
Family: Accipitridae
Genus: Circus
Species: Circus hudsonius
Best time of the year to see
In the United States, the best time of year to see these birds in the northern part is all year round, regardless of the season while the southern part of the states is best to see during winter.
Distribution of the Northern Harrier in the USA
This bird is native to Europe, Asia, and the Americas, and has been imported to parts of Africa and Bermuda. From the Pacific Coast to the Great Lakes, the United States has a large resident population.
The Northern harrier can be found in the following states in the United States – Alabama, Alaska, Arizona, Arkansas, California, Colorado, Connecticut, Delaware, Florida, Georgia, Hawaii, Idaho, Illinois, Indiana, Iowa, Kansas, Kentucky, Louisiana, Maine, Maryland, Massachusetts, Michigan, Minnesota, Mississippi, Missouri, Montana, Nebraska, Nevada, New Hampshire, New Jersey, New Mexico, New York, North Carolina, North Dakota, Ohio, Oklahoma, Oregon, Pennsylvania, Rhode Island, South Carolina, South Dakota, Tennessee, Texas, Utah, Vermont, Virginia, Washington, West Virginia, Wisconsin and Wyoming.
Circus Hudsonius – Northern Harrier