Kirtland's warbler (Setophaga kirtlandii), commonly known as the jack pine warbler, was named after Jared Potter Kirtland, an Ohio doctor and amateur naturalist. It was nearly extinct only 50 years ago, but it is now on the mend.
Quick Overview: Setophaga Kirtlandii – Kirtland's Warbler
Body size: Around 4.5-5 in (11-13 cm) and a weight of 14 g (0.5 oz)
Main colors: Gray, Black, Yellow
Range: Eastern United States
Migratory Bird: Yes
Best time of the year to see in the U.S.: March, April, May, September, October, November
Conservation Status: Least Concern
Kirtland's Warbler Description
Rare medium-sized warbler with gray upperparts with black streaks and yellow underparts with black streaks on the sides. The face is black, with a white eye-ring that is shattered. The bill, legs, and feet are all black.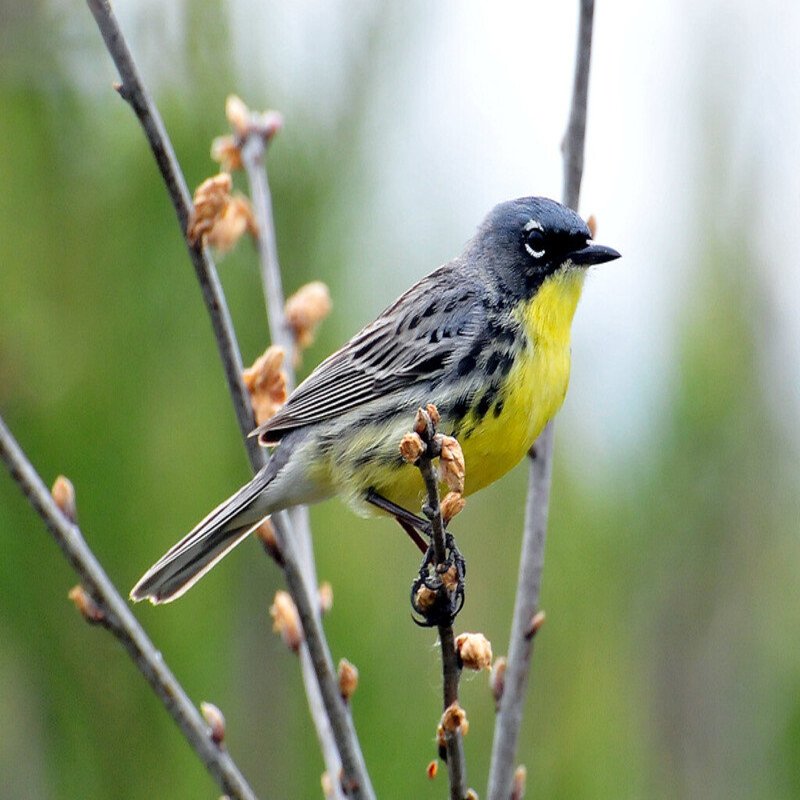 Size
These birds have a length of 4.5-5 in (11-13 cm) and a weight of 14 g (0.5 oz). Their wings could range from 7.5 in (19 cm).
Feeding
This species eats blueberries and insects like spittlebugs, aphids, and ants in its summering area.
Habitat
Only nests in young jackpine woods of at least 80 acres in size with several small, grassy gaps. The Bahamas and Turks and Caicos in the winter.
Behavior
Yearlings and first-time breeders search for new breeding grounds, although ringed males have been recorded returning to the same nesting site year after year; one male ringed at CFB Petawawa in Ontario in 2006 returned for six years. This individual lived to be nine years old, but the species is known to have significantly lower lifespans in general; males live to be four years old on average, while females live to be 2.5 years old on average.
Setophaga Kirtlandii Scientific Classification
Kingdom: Animalia
Phylum: Chordata
Class: Aves
Order: Passeriformes
Family: Parulidae
Genus: Setophaga
Species: Setophaga kirtlandii
Best time of the year to see
 In the United States, the best time of year to see these birds are during the Spring season (March-May) and during the Autumn season (September – November).
Distribution of the Kirtland's Warbler in the USA
Breeds in 13 counties from Lake Huron west to Kalkaska County, and from Presque Isle County south to Ogemaw County in upper and lower Michigan. The Bahamas Islands are covered in snow throughout the winter.
The Kirtland's Warbler can be found in the following states in the United States – Ohio, Tennessee, Kentucky, Florida, Georgia, North Carolina, South Carolina, Virginia, West Virginia, and Pennsylvania.
Setophaga Kirtlandii – Kirtland's Warbler