The common poorwill, Phalaenoptilus nuttallii is a nightjar in the family of Caprimulgidae. It ranges from British Columbia and southern Alberta to northern Mexico. Dry open plains with grasses or bushes, or rocky desert slopes with minimal vegetation. Many northern birds winter in central and western Mexico, however, others stay farther north.
Quick Overview: Phalaenoptilus nuttallii – Common Poorwill
Body size: Around 7-8 in (18-20 cm) and a weight of 51 g (1.8 oz)
Main colors: Brown, White, Black,
Range: Southwestern United States
Migratory Bird: Yes
Best time of the year to see in the U.S.: June, July, August, September
Conservation Status: Least Concern
Common poorwill Description
Colors range from mottled brown and white to black and white. This side has narrow charcoal lateral stripes and a dark band around the neck. In addition, the lateral tail feathers feature black and brown bands with white or dun-colored tips. The dorsolateral trailing edge is sandy and brown, whereas the medial leading edge is mottled. The beak has a ventral curvature, is small and broad, and has a huge open gape with lateral bristles.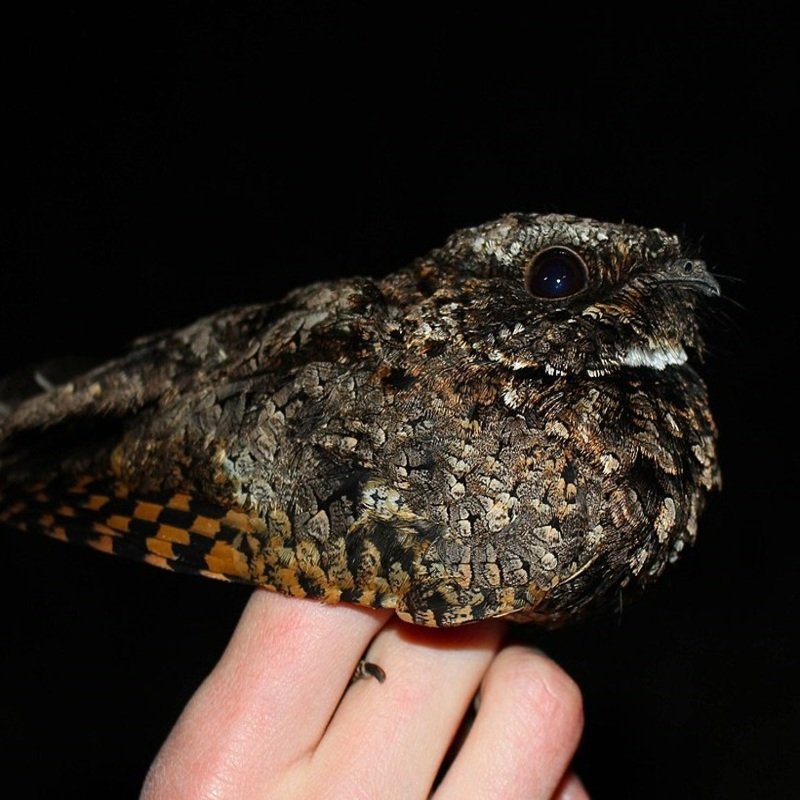 Size
These birds have a length of 7-8 in (18-20 cm) and a weight of 51 g (1.8 oz). Their wings could range from 11-13 in (28-33 cm).
Feeding
Common poorwills eat mostly night-flying insects and moths. Other insect orders make up less than 10% of the diet, according to feces. Prey appears to be chosen for size with 5–7 mm minimum length. This selection may maximize dietary energy or indicate the lowest limit of insects visible in low light situations.
Habitat
Common poorwills inhabit dry, open environments like grasslands, forests, hills, and deserts. In places with deciduous or coniferous growth, short grasses and shrubs or open woodland are preferred. Some species recorded near nesting and roosting locations include white fir, ponderosa pine, trembling aspen, Jeffrey pine, and creosote.
Behavior
Common poorwills settle near to their nests and are clumsy on the ground. Flight is described as moth-like flutters followed by a glide. During the day, they roost on the ground or on low-hanging limbs, often in groups. Daily roost places are virtually usually altered. The parent that is not brooding or incubating eggs or hatchlings will roost elsewhere.
Phalaenoptilus nuttallii Scientific Classification
Kingdom: Animalia
Phylum: Chordata
Subphylum: Chelicerata
Class: Aves
Order: Caprimulgiformes
Family: Caprimulgidae
Genus: Phalaenoptilus
Species: Phalaenoptilus nuttallii
Best time of the year to see
The best time to see these birds in the United States is during the summer season (June – September).
Distribution of the Common poorwill in the USA
Breeds largely in the western half of the United States, south into central Mexico, and winters primarily in the southern region of its breeding range, from the southwestern United States into central Mexico, according to the most recent available data.
The Common poorwill can be found in the following states in the United States – Alaska, Arizona, California, Colorado, Hawaii, Idaho, Illinois, Kansas, Montana, Nebraska, Nevada, New Mexico, North Dakota, Oklahoma, Oregon, South Dakota, Texas, Utah, Washington, Wisconsin, and Wyoming.
Phalaenoptilus nuttallii – Common Poorwill