A big water kingfisher, megaceryle alcyon or commonly known as Belted kingfisher, appears on the 1986 Canadian $5 bill. Formerly classified as one family, Alcedinidae, current research shows it should be split into three subfamilies.
Quick Overview: Megaceryle Alcyon – Belted Kingfisher
Body size: Around 11-14 in (28-37 cm) and a weight of 173 g (6.1 oz)
Main colors: Black, White, Blue
Range: Throughout the United States
Migratory Bird: Yes
Best time of the year to see in the U.S.: All Year (January – December)
Conservation Status: Least Concern
Belted kingfisher Description
Slate-blue kingfishers have a big head and crest. Between the eye and the bill is a white lores dot. A white-collar wraps around the neck nearly completely, while a black band wraps around the top half of the breast and links to the slate-blue back. The male's underside is white. Female Belted Kingfishers are more colorful than males, which is rare in bird sexual dimorphism. This is the female's second rufous band below the common dark band.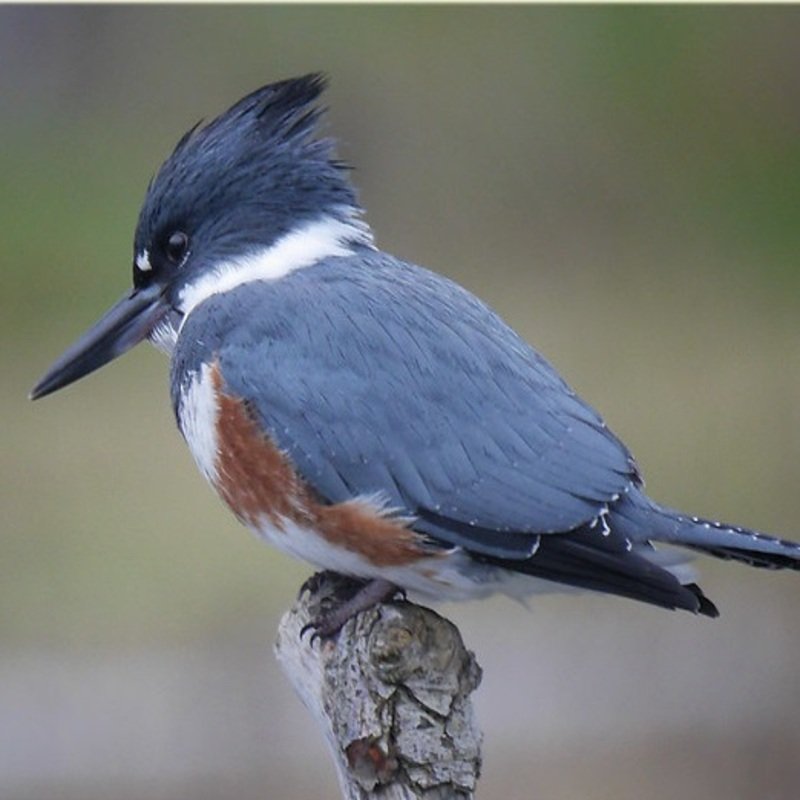 Size
These birds have a length of 11-14 in (28-37 cm) and a weight of 173 g (6.1 oz). Their wings could range from 22-26 in (56-66 cm).
Feeding
Belted kingfishers forage. In times of scarcity, they eat berries. There are lots of hunting around the river and coast. Small lakes prevent wave action. Then they hunt crawfish. Between 4 to 14 cm in length, they have been recorded eating up to 17.8 cm. There is still active hunting. The hunter must perch on an unobstructed, usually dead, tree branch, watching the feeding area.
Habitat
The belted kingfisher needs a body of water with virtually vertical exposed soil to lay its eggs. It can be found around lakes and rivers, road and rail cuts, and gravel mines. Rivers, ponds, streams, and lakes are fine. Males prefer rivers with more herbaceous plants than trees for nesting. They need clear water and flat surfaces to see their prey. Taller, steeper banks ward against flooding and predators
Behavior
The diurnal belted kingfisher Their digging habit during nesting season makes them fossorial. Most of the belted kingfisher's territory has moderate winters and can support them year-round. Belted kingfishers are territorial once established. A belted kingfisher's nesting area is 300-500 meters of shoreline.
Megaceryle alcyon Scientific Classification
Kingdom: Animalia
Phylum: Chordata
Subphylum: Chelicerata
Class: Aves
Order: Coraciiformes
Family: Alcendinidae
Subfamily: Cerylinae
Genus: Megaceryle
Species: Megaceryle alcyon
Best time of the year to see
In the United States, the best time of year to see these birds is all year round, regardless of the season. This refers to any month of the year between January and December.
Distribution of the Belted kingfisher in the USA
Belted kingfisher range encompasses all landmasses in the Nearctic area, including northern Canada, the United States mainland, and Greenland. The belted kingfisher's range includes Panama. Central Alaska to southern California, southern Yucatán, and southern Florida.
The Belted kingfisher can be found in the following states in the United States – Alabama, Arizona, Arkansas, Colorado, Connecticut, Delaware, Florida, Georgia, Hawaii, Idaho, Illinois, Indiana, Iowa, Kansas, Kentucky, Louisiana, Maine, Maryland, Massachusetts, Michigan, Minnesota, Mississippi, Missouri, Montana, Nebraska, Nevada, New Hampshire, New Jersey, New Mexico, New York, North Carolina, North Dakota, Ohio, Oklahoma, Oregon, Pennsylvania, Rhode Island, South Carolina, South Dakota, Tennessee, Texas, Utah, Vermont, Virginia, Washington, West Virginia, Wisconsin and Wyoming.
Megaceryle Alcyon – Belted Kingfisher