In the Americas, the killdeer, Charadrius vociferus is a big plover. Carl Linnaeus characterized it and gave it its current scientific name in 1758 in the tenth edition of his Systema Naturae. There are three subspecies described. The popular name for the killdeer originates from its frequently heard call.
Quick Overview: Charadrius Vociferus – Killdeer
Body size: Around 9-10.5 in (23-27 cm) and a weight of 93 g (3.28 oz)
Main colors: Brown, White, Black, Orange, Red
Range: Throughout the United States
Migratory Bird: Yes
Best time of the year to see in the U.S.: All Year (January – December)
Conservation Status: Least Concern
Killdeer Description
On top, it's brownish-tan, and on the bottom, it's white. Two black bands separate the white breast, and the brown face is marked with black and white patches with a red circle in the eyes. In-flight, the vivid orange-buff rump stands out.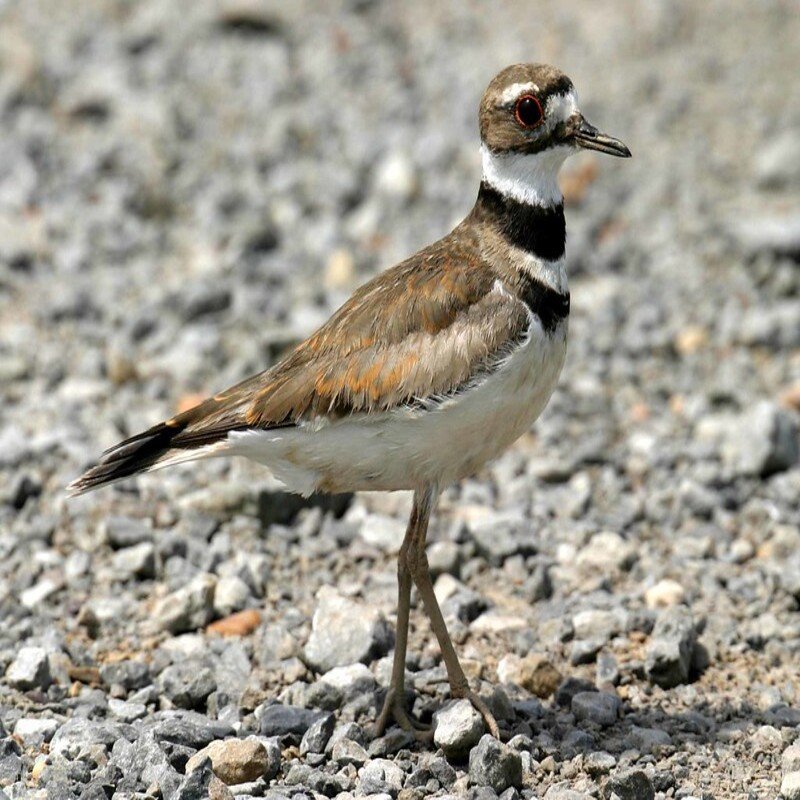 Size
These birds have a length of 9-10.5 in (23-27 cm) and a weight of 93 g (3.28 oz). Their wings could range from 19-21 in (48-53 cm).
Feeding
The killdeer's primary food source is insects (particularly beetles and flies), although it also consumes millipedes, worms, snails, spiders, and some seeds. It preys on tree frogs and dead minnows.
Habitat
Frequently found in open ground, such as pastures, plowed fields, and huge lawns, even when far from water. However, the most successful nesting places include some shallow water or another suitable feeding area for the chicks. Additionally, they are frequently found near bodies of water, such as mudflats, lake shores, and coastal estuaries.
Behavior
They are either solitary or in pairs of males and females. By feigning injury, the killdeer can occasionally divert predators away from its nest. It drags itself around the ground, occasionally on one foot, its wings dangling as if they are damaged.
Charadrius Vociferus Scientific Classification
Kingdom: Animalia
Phylum: Arthropoda
Subphylum: Chelicerata
Class: Aves
Order: Charadriiformes
Family: Charadriidae
Genus: Charadrius
Species: Charadrius vociferus
Best time of the year to see
In the United States, the best time of year to see these birds is all year round, regardless of the season. This refers to any month of the year between January and December.
Distribution of the Killdeer in the USA
Breeds from southern Alaska to Canada's east coast, including Newfoundland and southern Canada. Winters in northern Canada, Utah, the Ohio Valley, and Massachusetts, occasionally found in South America.
The Killdeer can be found in the following states in the United States – Alabama, Arizona, Arkansas, California, Colorado, Connecticut, Delaware, Florida, Georgia, Hawaii, Idaho, Illinois, Indiana, Iowa, Kansas, Kentucky, Louisiana, Maine, Maryland, Michigan, Minnesota, Mississippi, Missouri, Montana, Nebraska, Nevada, New Hampshire, New Jersey, New Mexico, New York, North Carolina, North Dakota, Ohio, Oklahoma, Oregon, Pennsylvania, Rhode Island, South Carolina, South Dakota, Tennessee, Texas, Vermont, Virginia, Washington, West Virginia, Wisconsin, and Wyoming.
Charadrius Vociferus – Killdeer