The veery, Catharus fuscescens is a tiny North American thrush species. It is one of a group of closely related and similar species in the genus Catharus, which also includes the gray-cheeked thrush, Bicknell's thrush, Swainson's thrush, and Hermit thrush. Wilson's thrush (named after Alexander Wilson) and tawny thrush are other names for this species.
Quick Overview: Catharus fuscescens – Veery
Body size: Around 7-7.5 in (18-19 cm) and a weight of 31 g (1.1 oz)
Main colors: Rust-Brown, White, Gray-Brown
Range: Northeastern and Southern part of United States
Migratory Bird: Yes
Best time of the year to see in the U.S.: March, April, May, September, October, November
Conservation Status: Least Concern
Veery Description
Veeries are medium-sized thrushes that are somewhat smaller than American Robins but have a similar form. Rust-brown upperparts, a faint rust-brown eye-ring, white underparts, and faint rust-brown patches on the breast distinguish this medium-sized thrush from others. The upperparts and breast patches of the dark race are gray-brown.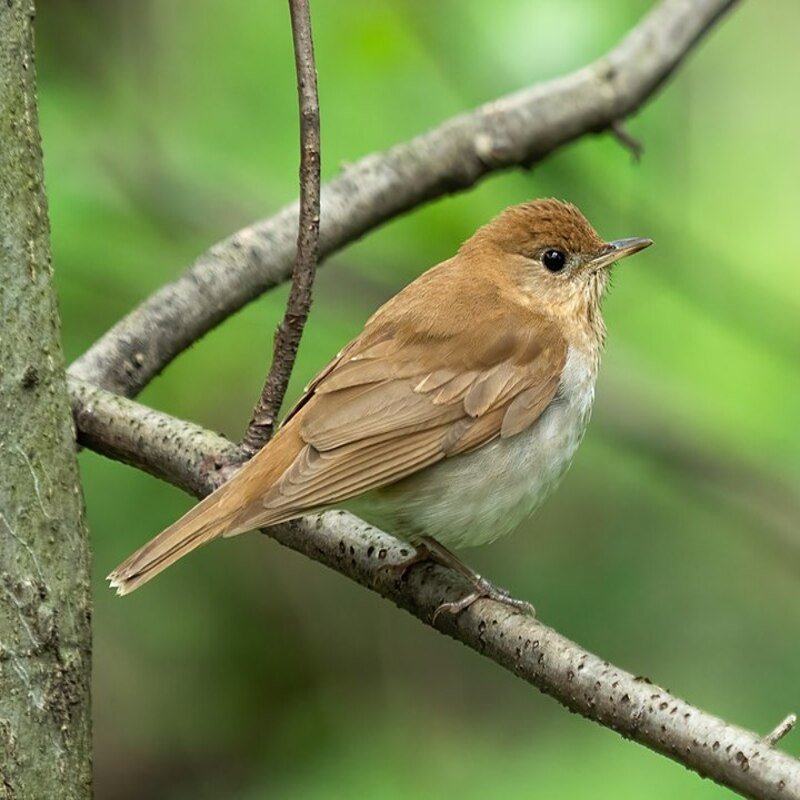 Size
These birds have a length of 7-7.5 in (18-19 cm) and a weight of 31 g (1.1 oz). Their wings could range from 11-11.50 in (28-29 cm).   
Feeding
The majority of the time, insects and fruit. During the breeding season, the diet consists primarily of insects, including beetles, ants, tiny wasps, caterpillars, crickets, and others, as well as spiders, centipedes, and snails; it seldom consumes small frogs or salamanders. In late summer and fall, berries and tiny fruit may constitute the majority of the diet.
Habitat
Winters in the tropics. Habitat: Moist deciduous forests; in the west, favors willow thickets beside streams.
Behavior
The Veery forages largely on the ground and among low bushes. When in foliage, this particular thrush may be observed jumping on the ground and flipping over leaves in search of insects, berries, and tiny fruit.
Catharus fuscescens Scientific Classification
Kingdom: Animalia
Phylum: Chordata
Subphylum: Chelicerata
Class: Aves
Order: Passeriformes
Family: Turdibae
Genus: Catharus
Species: Catharus fuscescens
Other common names
Wilson's thrush (named after Alexander Wilson) and tawny thrush are other names for this species.
Best time of the year to see
The best time to see these birds in the United States is during the Spring season (March-May) and during the Autumn season (September – November).
Distribution of the Veery in the USA
Breeds in southern Canada, from British Columbia to Newfoundland, and south to Colorado, Minnesota, and east to New England, stretching along the Appalachian Mountains into northern Georgia.
The Veery can be found in the following states in the United States – Alabama, Alaska, Arkansas, Connecticut, Delaware, Florida, Hawaii, Idaho, Illinois, Indiana, Iowa, Kansas, Kentucky, Louisiana, Maine, Maryland, Massachusetts, Michigan, Mississippi, Missouri, Montana, Nebraska, New Hampshire, New Jersey, New York, North Carolina, North Dakota, Ohio, Oklahoma, Oregon, Pennsylvania, Rhode Island, South Carolina, South Dakota, Tennessee, Texas, Vermont, Virginia, Washington, West Virginia, Wisconsin, and Wyoming.
Catharus fuscescens – Veery