The stilt sandpiper is a tiny shorebird (Calidris himantopus). The scientific term originates in Ancient Greek. Aristotle used the term kalidris or skalidris to refer to several grey-colored waterside birds. The genus name himantopus translates as "strap foot" or "thong foot."
Quick Overview: Calidris Himantopus – Stilt Sandpiper
Body size: Around 7.5-8.5 in (19-22 cm) and a weight of 68 g (2.39 oz)
Main colors: Gray-Brown, White, Brown, Black, Gray- Green
Range: Throughout the United States
Migratory Bird: Yes
Best time of the year to see in the U.S.: March, April, May, September, October, November
Conservation Status: Least Concern
Stilt sandpiper Description
The gray-brown upperparts, white rump, strongly barred white underparts, dark hat, white eyebrows, and brown ear patches distinguish this medium-sized sandpiper. It is distinguished by a broad, black bill that curls downward at the tip and by its long gray-green legs.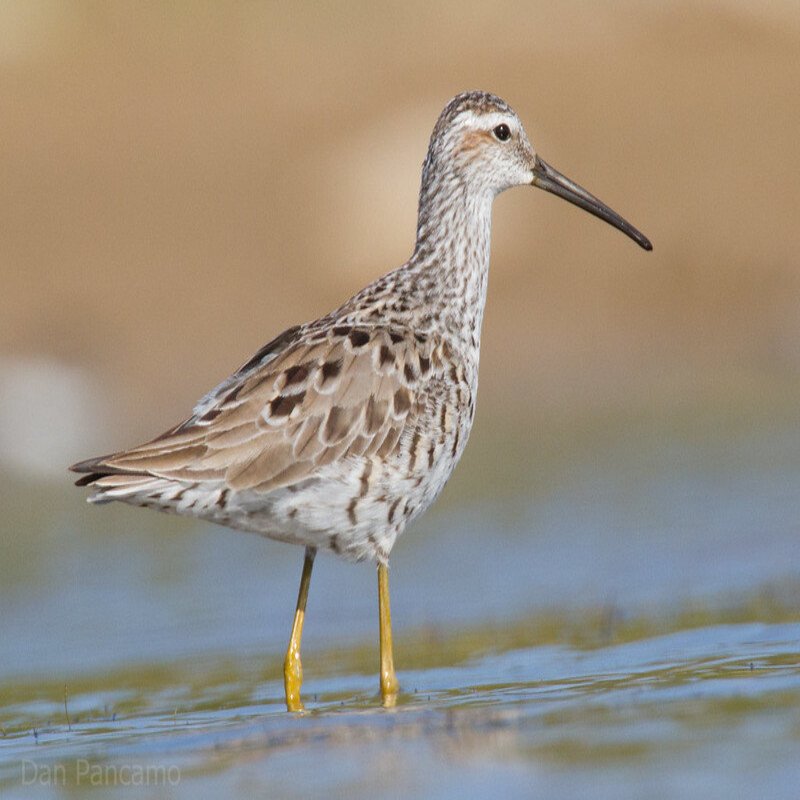 Size
These birds have a length of 7.5-8.5 in (19-22 cm) and a weight of 68 g (2.39 oz). Their wings could range from 15-17 in (38-43 cm).
Feeding
These birds graze on mud, taking up food by sight and frequently jabbing in the manner of dowitchers. They are primarily insectivorous and feed on various invertebrates.
Habitat
The Stilt Sandpiper breeds only in North America's low-arctic and subarctic regions and winters mostly in central South America's interior.
Behavior
The Stilt Sandpiper breeds similarly to other monogamous calidridine sandpipers. However, it is ecologically distinct from the majority of congeners in that it avoids tidal mudflats in favor of pools or lagoons, where it forages in belly-deep water.
Calidris Himantopus Scientific Classification
Kingdom: Animalia
Phylum: Chordata
Subphylum: Chelicerata
Class: Aves
Order: Charadriiformes
Family: Scolopacidae
Genus: Calidris
Species: Calidris himantopus
Best time of the year to see
In the United States, the best time of year to see these birds are during the Spring season (March-May) and during the Autumn season (September – November).
Distribution of the Stilt sandpiper in the USA
Breeds in northeastern Alaska, northeastern Manitoba, and the far northwestern portion of Ontario. Winters in South America and travels to Florida and southern California on a whim.
The Stilt sandpiper can be found in the following states in the United States – Alabama, Arizona, Arkansas, Colorado, Connecticut, Delaware, Georgia, Hawaii, Idaho, Illinois, Indiana, Iowa, Kansas, Kentucky, Louisiana, Maine, Maryland, Massachusetts, Michigan, Minnesota, Mississippi, Missouri, Montana, Nebraska, Nevada, New Hampshire, New Jersey, New Mexico, New York, North Carolina, North Dakota, Ohio, Oklahoma, Oregon, Pennsylvania, Rhode Island, South Carolina, South Dakota, Tennessee, Texas, Utah, Vermont, Virginia, Washington, West Virginia, Wisconsin, and Wyoming.
Calidris Himantopus – Stilt Sandpiper