Curlew sandpipers (Calidris ferruginea) are tiny waders that breed in Arctic Siberia's tundra. It is a migratory species, spending the winter primarily in Africa, but also in south and southeast Asia, Australia, and New Zealand. It is an invasive species in North America.
Quick Overview: Calidris Ferruginea – Curlew Sandpiper
Body size: Around 7.5-8.5 in (19-22 cm) and a weight of 117 g (4.12 oz)
Main colors: White, Red-Brown, Black
Range: Central United States
Migratory Bird: Yes
Best time of the year to see in the U.S.: March, April, May, September, October, November
Conservation Status: Near Threatened
Curlew sandpiper Description
This sandpiper of medium size has mottled rufous, white, and black upperparts. The head, neck, and breast are all a vibrant rufous color, while the vent, undertail coverts, and underwings are all white.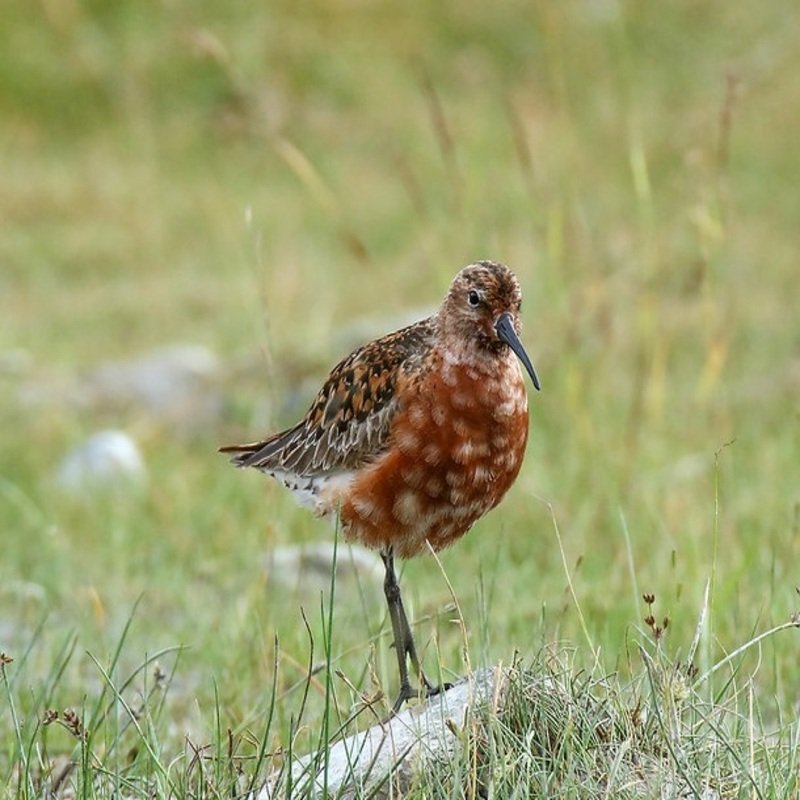 Size
These birds have a length of 7.5-8.5 in (19-22 cm) and a weight of 117 g (4.12 oz). Their wings could range from 14.5-16.5 in (37-42 cm).
Feeding
Their diet consists primarily of snails, worms, insects, and other minute invertebrates such as crustaceans, mollusks, and worms, but they also consume seeds and other plant material on occasion.
Habitat
Rare but consistent migrant to the east coast from New England to the Gulf, less common on the west coast; winters primarily in the Old World. Breeds on tundra and winters in estuaries, lagoons, and lakes.
Behavior
They forage by swiftly probing the mud with their bill, frequently working in groups. They wade into belly-deep water and probe continuously as they traverse their habitat fast.
Calidris Ferruginea Scientific Classification
Kingdom: Animalia
Phylum: Chordata
Subphylum: Chelicerata
Class: Aves
Order: Charadriiformes
Family: Scolopacidae
Genus: Calidris
Species: Calidris ferruginea
Best time of the year to see
In the United States, the best time of year to see these birds are during the Spring season (March-May) and during the Autumn season (September – November).
Distribution of the Curlew sandpiper in the USA
Breeds across Eurasia, with the exception of very few coastal locations in northern Alaska and the western Aleutian Islands.
The Curlew sandpiper can be found in the following states in the United States – Hawaii, North Dakota, South Dakota, Nebraska, Kansas, Oklahoma, Minnesota, and Wisconsin.
Calidris Ferruginea – Curlew Sandpiper