Calidris melanotos, the pectoral sandpiper, is a small migratory wader that breeds in North America and Asia and winters in South America and Oceania. It feeds on invertebrates of various sizes. Its nest, a scraped-in hole with a thick liner, is deep enough to protect its four eggs from the breeding grounds' cold breezes.
Quick Overview: Calidris melanotos – Pectoral Sandpiper
Body size: Around 8-9 in (20-23 cm) and a weight of 126 g (4.44 oz)
Main colors: Brown, Gold, Black, White
Range: Throughout the United States
Migratory Bird: Yes
Best time of the year to see in the U.S.: March, April, May, September, October, November
Conservation Status: Least Concern
Pectoral sandpiper Description
Adults are brown, gold, and black above, with a white belly and tidy dark-brown stippled rows on the breast that terminate abruptly at the white belly. Juveniles are similar to adults, save for the presence of rusty-edged feathers above.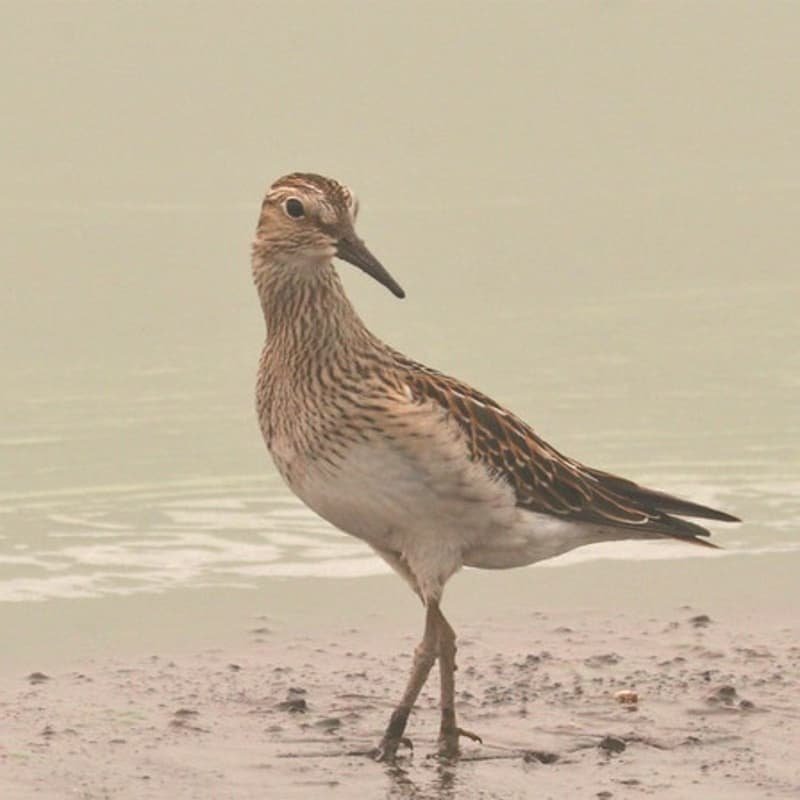 Size
These birds have a length of 8-9 in (20-23 cm) and a weight of 126 g (4.44 oz). Their wings could range from 15-16 in (38-41 cm).
Feeding
The pectoral sandpiper's diet is primarily composed of invertebrates. It hunts for food by traveling slowly around shorelines and mudflats, gently plucking prey off the surface or slightly burrowing into the sand or mud to locate them.
Habitat
On the tundra, the pectoral sandpiper breeds. It is found in freshwater and saltwater marshes, wet meadows, flooded fields, pond beaches, and grassy regions like golf courses and airports during migration. It spends the winter in South America's grasslands.
Behavior
The probe, poke and peck at substrates, frequently while walking slowly. They explore for prey by entering the entire length of their beak and jabbing; they peck at surface-active animals utilizing visual cues.
Calidris Melanotos Scientific Classification
Kingdom: Animalia
Phylum: Chordata
Subphylum: Chelicerata
Class: Aves
Order: Charadriiformes
Family: Scolopacidae
Genus: Calidris
Species: Calidris melanotos
Best time of the year to see
 In the United States, the best time of year to see these birds are during the Spring season (March-May) and during the Autumn season (September – November).
Distribution of the Pectoral sandpiper in the USA
Breeds on the arctic tundra between western Alaska and extreme northern Canada, as well as in Siberia. During the winters, he travels to South America and Australia. Throughout North and Central Americas during migration.
The Pectoral sandpiper can be found in the following states in the United States – Alabama, Arizona, Arkansas, California, Colorado, Connecticut, Delaware, Florida, Georgia, Hawaii, Idaho, Illinois, Indiana, Iowa, Kansas, Kentucky, Louisiana, Maine, Maryland, Massachusetts, Michigan, Minnesota, Mississippi, Missouri, Montana, Nebraska, Nevada, New Hampshire, New Jersey, New Mexico, New York, North Carolina, North Dakota, Ohio, Oklahoma, Oregon, Pennsylvania, Rhode Island, South Carolina, South Dakota, Tennessee, Texas, Utah, Vermont, Virginia, Washington, West Virginia, Wisconsin, and Wyoming.
Calidris Melanotos – Pectoral Sandpiper